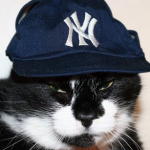 When the biggest storm in decades was heading for the US East Coast all human beings found shelter or ran for their lives. But what happened to our pets and all the homeless animals that were exposed and helpless when Sandy hit with all her might? In New York alone more than 300 pets had to be rescued and more than 13,000 would have starved if the emergency services had not reached them with supplies.
Here are some amazing stories about how the animals suffered, how much they were able to endure and how the love and caring of animal lovers helped to ease their plight:
Humane Society Reunites Rescued Pets With Owners Post-Sandy
The Humane Society of the United States and other responding agencies have rescued more than 200 animals in Monmouth and Ocean counties.
The HSUS and volunteers with Red Rover have been caring for the animals at emergency animal shelters while search and rescue operations continue as calls come into the animal emergency hotlines.
Now, the response effort is beginning to shift to bringing pets and owners back together.
"The bond between people and their companion animals is incredibly powerful and the pet owners affected by these two devastating storms are desperate to be reunited with their beloved animals," said Laura Maloney, chief operating officer for the HSUS. "The Humane Society of the United States is happy to provide care for these animals while their owners get back on their feet, but it's most heartwarming to be able to place these animals back in their owners' arms."
Read more: http://nj1015.com/the-humane-society-reuniting-rescued-pets-with-owners-post-sandy-audio/
And many celebs got involved as well when they heard of the plight of pets and animals. Animal rescue shelters were bursting at the seams and supplies were running out fast so it was definitely crisis time. Here's what Denise Richards did to help:
Denise Richards Adopts Puppy During Sandy Aftermath
She traveled to New York to talk about disaster relief after Hurricane Sandy, and Denise Richards ended up doing some serious relief of her own.

When the actress visited a North Shore Animal League America shelter in Long Island, N.Y., on Saturday to help spread the word about relief efforts in the area and encourage adoptions, she met one shelter resident and couldn't let go.

According to a post on the shelter's Facebook page, Richards adopted a black Labrador mix puppy named Tara.

"During their visit Denise and her family fell in love with Tara the Labrador Mutt-i-gree puppy and welcomed her into their home!" reads the post.

Looks like Richards – who told PEOPLE in 2010 that she has "lots" of once-homeless dogs – has given her friends yet another reason to call her Dr. Dolittle.

"I swear, if there's a dog stranded somewhere, he finds my car, and he finds me," she told PEOPLE. "If anyone is looking to get a dog, they ask, 'Can you help me?'"
Read on: http://www.peoplepets.com/people/pets/article/0,,20647192,00.html
I can only imagine what it must feel like to lose your cat or dog in such a national disaster. As human beings we have the strength, intelligence and resourcefulness to escape the clutches of such a terrible storm. We know it's heading our way so we can take evasive action. We are able to protect ourselves and our families. But animals are helpless. They are our faithful companions for life and they trust us, so they rely on us for protection and shelter.
But when our own lives are threatened and panic is the order of the day then things can start going wrong. And so it was with hurricane Sandy too. But there were tales of bravery and compassion too. Read on…
Heroes Of Hurricane Sandy
How Pets Survived Hurricane Sandy
It will likely be months before we know exactly how many pets were lost or displaced by Hurricane Sandy. But according to the American Humane Association, some 15 million dogs were in the storm's path. Multiple Facebook groups have sprung up in Sandy's wake, including Hurricane Sandy Lost and Found Pets, which by Nov. 6, more than 22,000 people had "liked," and some 95,000 were talking about, according to the page. And efforts aren't just ad hoc: both the ASPCA and the Humane Society of the United States have deployed teams to New York and New Jersey to assist in search-and-rescue operations, give out food and medical care, and create temporary emergency shelters for pets found lost in the storm.

Pets may seem like a secondary concern in the aftermath of a storm that claimed not just homes but also human lives, but according to some of the people who've spent the last few days working around the clock to help reunite families with their animals, the loss of a pet can be—as it was for Carmona and her family—deeply emotionally traumatizing. "I'm in a shelter day by day with these people who have nothing left," says Niki Dawson, the director of disaster services for the Humane Society of the United States. "They don't know if they can go home. They're depending on clothes from the Red Cross. To see their faces light up when they are able to pet their cat or walk their dog. That, that, is what makes you understand."
"Over and over again we hear from people, 'I don't care if I lost my house. I don't care if I lost my car. It's just stuff. At least I have my dog.'"
Read on: http://www.thedailybeast.com/articles/2012/11/07/how-pets-survived-hurricane-sandy.html
Sometimes it's easy to think that these days we live in a world gone mad. Everywhere you look there seems to be chaos and human strife. And to make things worse so often the weather and the elements seem to be out of control as well. Are natural disasters more common these days than they were say 100 years ago? Perhaps they were just not reported that often all those years ago?
But there is always our human spirit that allows us to triumph even in the face of extreme adversity. There's man's bravery on the one hand but there is also our love and compassion for others – and for our animals of course!
On on the lighter side here's a Hurricane Sandy weather pawcast by Schmitty The Weather Dog:
Tweet