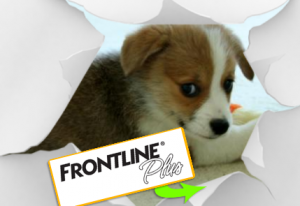 Is it true that fleas are becoming resistant to Frontline Plus for dogs? This is a question that is often asked on many online pet forums and blogs these days. Could it be that this famous pet flea remedy is no longer as effective as it used to be? Or perhaps pet owners are not using it correctly and then blaming the product?
Even cat lovers are getting in on the act. On one well known cat forum a pet owner recently mentioned that she had asked for a refund after buying Frontline Plus for cats online. She claimed that her cats still had fleas and that the product was not working. Is there any truth in this statement? Let's examine the facts in this article and then you can decide for yourself.
In this article we will discuss the well known pet med product by Merial, called Frontline Plus. You will get all the facts  about Frontline for dogs and Frontline for cats and we will also discuss other aspects of this flea treatment product like the Frontline Plus directions.
What are the Frontline Plus ingredients?
The product  contains two active ingredients called Fipronil and Methoprene. Fipronil is an adulticide (kills adult fleas and also ticks) and Methoprene is an insect growth regulator (destroys the life cycle of juvenile fleas).
Fipronil kills the adult flea population on your pet by blocking the movement of chlorine into the cells of the flea's nervous system. This causes the fleas to become paralysed and die. Methoprene acts exclusively against the immature or juvenile fleas on your pet by mimicking and increasing the levels of juvenile growth hormone which prevents the flea larvae and flea eggs from maturing. This mode of action effectively destroys the flea life cycle and wipes out the flea population on your pet.
Learn how to apply Frontline Plus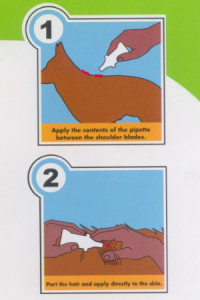 The product is a liquid spot-on preparation that is applied externally to your pet's skin. Choose a spot on your pet's skin where licking cannot take place. The best area for application is the back of the neck or between the shoulder blades of your pet. The dose given to your pet  would depend on its body weight. Pipettes are available for small, medium, large and extra large dogs as well as small and large cats.
Remove one pipette of the product from the packaging and break off the tip facing it away from your body.  Part the fur with your fingers until you can place the opened tip of the pipette against the pet's skin. Squeeze several times until all the liquid from the pipette is on your pet's skin, avoiding to touch the area with your hands for a few hours.
The active ingredients in this product are mixed together with an oily carrier and it then collects in the oil (sebaceous) glands of the skin from where it is slowly released. This gives the product excellent water resistant properties, enabling your pet to still be protected even after swimming or bathing. Here's an interesting article with further details and directions:
Consider Frontline Plus sort of like a bulletproof vest for Fido. Apply it to your dog, and about 12 hours later, fleas will die. About 48 hours later, ticks will die, too. A flea bite can inflict some swelling and general irritation, but most pets won't suffer more than that, according to research from the University of California, Davis. However, ticks can cause Lyme disease, which can damage a human's or pet's central nervous system. In some cases, Lyme disease has caused death, according to the Centers for Disease Control and Prevention (CDC). Frontline Plus can prevent your pet from attracting these pests and bringing them near you.

Read more: Frontline Plus Directions | eHow.com http://www.ehow.com/how_8016542_frontline-plus-directions.html#ixzz2CmNX2d2c
And here is a good video to show you how to apply the product effectively:

 Are there any Frontline Plus side effects?
Before you allow your dog to join the thousands of Frontline Plus dogs around the world let's take a look at what possible side effects, if any, this dog flea treatment could have. We all love our furry friends and would definitely not want to harm them so this is merely a precautionary  but very important step.
There can sometimes be some side effects when using Merial Frontline Plus but on the rare occasions that they do occur, they are generally mild. It's best to check though with your  veterinarian before using this treatment on your pets.  Symptoms can include mild hair loss or skin redness at the site of placement, lethargy, drowsiness, and also loss of appetite for a few days.
Here is a good video that discusses side effects:
 Let's check out some Frontline Plus reviews:
The best way to judge whether a product is the right one for you is to check out the reviews of folks who have already used it on their cats and dogs.  This product is no different and here is what some consumers out there had to say about it:
I have been using Frontline Plus for a couple of years and have yet to have an issue with fleas or find an attached tick. This is an outstanding product that I use on all three of my dogs – Petco.com:  Italian Greyhound Mom from Twin Cities, MN
http://reviews.petco.com/3554/12686/frontline-frontline-plus-for-dogs-reviews/reviews.htm
It has maintained the safest albeit not the most effective treatment for fleas and ticks. However, the more effective products pose a significantly greater risk to your dog. It's a slippery slope, but in evaluating what's best for your dog and offers the most protection at the least risk Frontline and FrontLine Plus are hands down, without question your best bet.

The bottom line is this – all of these products pose a risk. The wise choice is to minimize that risk in your effort to protect your pet from the diseases these vermin carry. Again, these diseases can be infinitely more lethal than the ingredients of the protection. To that end your safest and most effective choice is Frontline or Frontline Plus – Amazon.com : Peter Suslock, CT, USA
http://www.amazon.com/review/RX914HRUKQKX1/ref=cm_cr_pr_viewpnt#RX914HRUKQKX1
Hi, we tried everything generic for our cats who had non-stop fleas. It was a mess nothing worked we tried sprays and powder, then we started using Frontline for our cats and within one day no fleas. It was the best thing – Yahoo Answers: Catlover
http://answers.yahoo.com/question/index?qid=20090727132224AAupHyj
From the above testimonials it's obvious that the facts speak for themselves. This product is an effective and safe treatment for pets to protect them against flea and tick infestations. It's also clear that in a very small percentage of pets minor side effects can sometimes occur. But the other flea remedies on the market today can pose a much greater risk of side effects. So there is no doubt that this product is a safe and effective flea treatment for your pets, to protect them against the dangerous diseases that can be transmitted by fleas and ticks.
Where can this product be purchased online?
When purchasing online many pet owners will probably search for Frontline Plus coupons but in my experience most sites that offer coupons do not deliver on their promises. I mostly prefer to look for online stores that sell the product I'm looking for at the lowest price or sites that give substantial discounts on my purchases.
Most customers who want to buy Frontline products will go shopping at the large online retailers that they are familiar with. For example, they might go and search for the best Frontline Plus Walmart deals but often they then get tricked into buying a different product. Many large stores also sell different generic Frontline or generic Frontline Plus versions which the pet owner might think are just as effective but they are of course not the real product produced by Merial.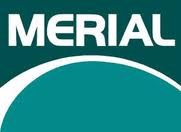 Is Frontline Plus by Merial that is produced in other countries just as good as the product produced and sold in the US? This is a question that is quite rightly often asked by pet owners inside and outside the US and the answer is simple – Merial is a multi-national company that produces and sells its Frontline product range all over the world, so as long as it is the genuine Merial product you are buying then it makes no difference whether it is shipped from inside or outside the US. Some folks would disagree with this statement of course, but when you think about it it's very logical and it's simply a matter of your own choice or preference.
Here is some good info about the worldwide company Merial and where it manufactures it's Frontline product range:
Manufacturing for Merial is a global operation with 16 manufacturing sites around the world where the company's products for livestock, companion animals (pets) and wildlife are produced. Manufacturing's responsibilities include sourcing the company's leading products including the ivermectin and fipronil ranges, with such well-known brands as IVOMEC® (ivermectin), HEARTGARD® (ivermectin), FRONTLINE® and FRONTLINE Plus.
Read more: http://us.merial.com/around_world/manufacturing/index.asp
Merial is a world-leading animal healthcare company with a global market share of more than 14 percent. An innovation-driven leader, Merial makes significant investments in research and development, with ten research and development centers around the world. Merial is committed to developing pharmaceuticals and vaccines with the highest level of quality, safety and efficacy through an extensive network of 16 manufacturing sites.
Read more: http://merial.com/EN/AroundTheWorld/Pages/default.aspx#
The facts speak for themselves. More than 100 million pipettes of this product are produced around the world every year and it is the biggest selling treatment for pet fleas and ticks out there. The product is approved by the FDA in the US and by equivalent government agencies in over 150 countries worldwide. If you are interested in buying Frontline Plus then go here.
Tweet